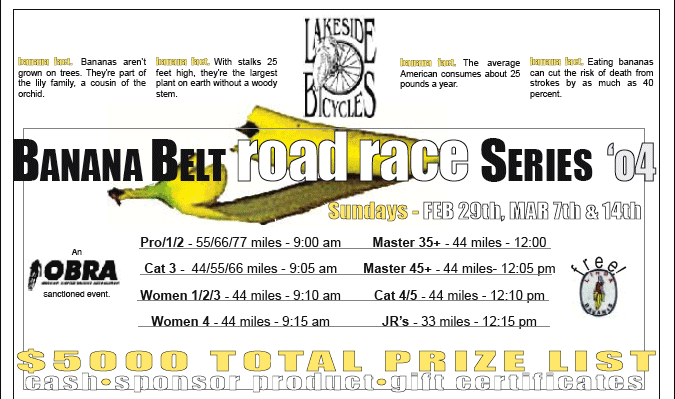 (296 KB PDF race flyer)
New for 2004
Expanded Prize List!  (Cash, Product, Gift Certificates)

Pro/1/2 - 20 deep, $1500 (+ Grand Prize to be announced....stay tuned)
Men 3 - 15 deep, $800
Men 4/5 - 15 deep, $600
Women 1/2/3 - 12 deep, $700
Women 4 - 8 deep, $500
Master 35+ - 10 deep, $600
Master 45+ - 10 deep, $600
Juniors - 5 deep, $200
TOTAL    $5,500

More Categories!  (if over 20 riders/category) Separate fields for Women 1/2/3; Women 4; Master 35+; Master 45+
Reverse direction 2nd race!
1st and 3rd Races - clockwise;   2nd Race - counterclockwise.
Team GC in Men Pro/1/2 race! (team equipment, gift certificates)
Top 3 riders per team for series - $700 Value, 3 deep, 1st - $350; 2nd - $200; 3rd - $150
Award night party at Lakeside Bikes!
All awards will be handed out on Friday night (March 19th) at 7 pm. + beer, food, music, mirthful delight, etc. Those unable to attend may make special arrangements with promoter.

Smokin' Series Pass Deal! $50 for all three races (compare at $20 per race). Pre-registration prior to Feb. 24th required. Sorry, no pre-registration for individual races. Send to Jeff Mitchem, 3143 SE Main St. Portland, OR 97214

the Henry-Hagg lake course is an eleven mile loop around scenic Henry-Hagg lake. Neutral start onto Scoggins Valley Rd, right onto West Shore Dr., back to Scoggins Valley Rd. to finish one flat to rolling lap. 750 feet net elevation gain per lap.

fees. $5 juniors o $20 others day of event or $50 Series Pass (send to Jeff Mitchem, 3143 SE Main Street, Portland, OR 97214 before Feb. 25). Pre-registration is for series only. Parking Fee - $4.

points system. Points will be accumulated over the series for overall prizes awarded following the last race, Sunday, March 16th. First (16pts), second (13pts), third (10pts), fourth (8pts), fifth (6pts), sixth (5pts), seventh (4pts), eighth (3pts), ninth (2pts), tenth (1pt). New For 04: Team General Classification Award $500. Top 3 riders in Cat Pro/1/2 race.

directions. From downtown Portland, go west on Hwy 26, veer left onto Hwy. 6/ Banks/Tillamook exit at MP54. Proceed 2.6 miles on Hwy. 6. Turn onto Hwy. 47 (S. to Forest Grove) and proceed 12.4 miles (passing McMenamins Grand Lodge at 7 mi.). Turn right onto Scoggins Valley Rd/Henry Hagg Lake Park. Proceed 3.4 mi. to West Shore Dr. Turn left on West Shore Dr. and proceed approx. 4 mi. to the parking lot and registration at Boat Ramp "C".

registration. Opens at 8:00am under the registration banner until 15 minutes prior to start times.

hot spots. Pro/1/2, Category 3, Masters 35-44 ONLY: Pro/1/2 Hot spot points will be awarded on the end of laps 1 and 3 of the first race, and laps 1, 3, and 5 of the second and third races; Cat 3 and Masters hot spot points will be awarded at the end of the second lap of each week. Hot spot points will be added to riders overall point tally. Points go three deep (5, 3, 1). New for 04: Team General Classification Award - $500 - three deep. Top three riders per team.

lodging. Lodging is available at McMenamin's Grand Lodge (15 minute travel time from race registration) (503) 992-9533. Ask for the Banana Belt discount.

OBRA licenses required. Single race OBRA licenses available. USCF licenses NOT required. Promoter reserves the right to combine or split groups. ANSI approved helmets required.

parking fee required. $4.00/car - can be purchased at park entry or registration.

volunteers needed. free race entry, or PIR credit. Call Jeff Mitchem (503)233-3636 or email jeffmitchem@digiwest.com.