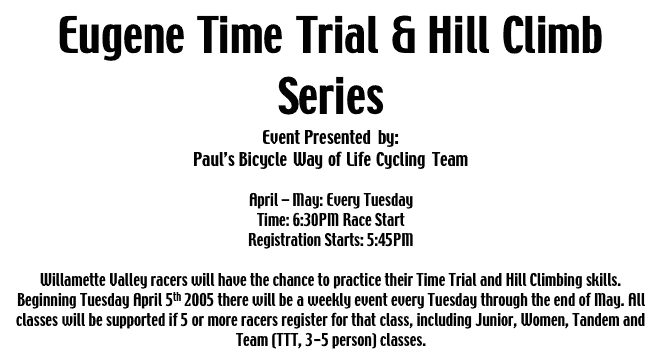 Registration: 5:45PM-6:20PM (online at www.orbike.com)
$8.00 per event or series option available.

Series costs: $28 for the Time Trials (4 Events) or $35 for the Hill Climbs (5 Events)

Make checks payable to "SWEET SPORTS" and send them to:
Sweet Sports
1456 McKinley Court
Eugene, OR, 97402


Start Time: 6:30PM-30 second starts-based on sign in.
April TT: 15 mile flat TT course
Staging at Coburg Elementary School
May Hill Climb: 3.5 Mile climb, 800' Elevation gain.
Staging at the Lutheran Church off Lorane Hwy at 85780 McBeth Rd.

Time Trial Series
April, 5th
April, 12th (TTT option)
April, 19th (TTT option)
April, 26th (awards)

Hill Climb Series
May, 3rd
May, 10th
May, 17th
May, 24th
May, 31st (awards)

Contact: Sweet Sports
541-334-6449
1456 McKinley Court, Eugene Or 97402


Prizes: Wheel Set, Time Trial Bar setup, Burley Design Trailer
Plus: Gift Certificates, Tools, Computers, Tires, Clothing
Prizes awarded after last event for the individual series at Track Town Pizza at 8:30 PM.