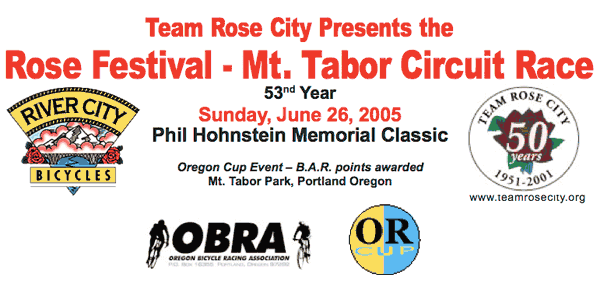 Team Rose City cordially invites you on Sunday, June 26, 2005, to one of the most challenging and fun races of the year in beautiful Mt. Tabor Park, on the east side of Portland, Oregon. Cash, trophies, ribbons and other prizes will be awarded.
The course is a tough, 1.3-mile hilly and curvy circuit that encircles the upper reservoir and passes by the neck of the ancient volcano that formed Mt. Tabor. Each lap has 136.6' of climbing.
Primes will be announced prior to each start. Also a few surprises will be added. Lapped riders are not eligible for primes. Warm up on the course not permitted after 8:30 am. No feed zones allowed.
There is a Fixed Gear class this year but for safety reasons, a front brake is required.
Juniors $7
Individuals $18
Tandems $20
Second Entries $5

Registration is at the race, so be there early. Racing begins on time! Registration fee includes Park usage fee, OBRA, and insurance fees. Temporary OBRA licenses available at registration.


Time      Category               Laps/Dist        Places
 8:45     Juniors                4-5.2mi          3
 9:05     Men 5/Novice           4-5.2mi          3
 9:25     Masters 50+            7-9.1mi          3
 9:55     Men 4                  10-13mi          3
10:40     Masters 35+            10-13mi          3
11:20     Women 4/35-49/50+      6-7.8mi          3 ea cat
11:50     Tandems                4-5.2mi          3
12:10     Fixed Gear             6-7.8mi          5
12:35     Men 3                  15-19.5mi        3
 1:30     Senior Women 1/2/3     12-15.6mi        3 ea cat
 2:15     Senior Men 1/2         35-45.5mi        10


For information contact Lars Anderson, 971-570-5969; or Terry Crawford, tncrawfords@comcast.net, 503-244-0050.