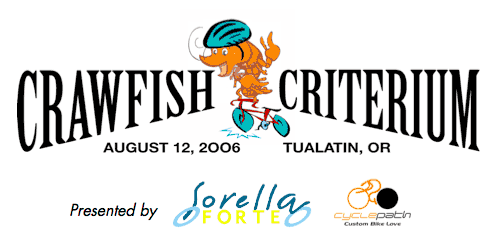 Come celebrate a tradition at the 16th Annual Crawfish Festival Criterium, part of the 55th annual Crawfish Festival in Tualatin. Bring your friends and family along to enjoy the festival and cheer on the racers. The course, located south of town near the other festival activities, consists of a fast downhill, sweeping corners and a tough little uphill rise to the finish line. The pavement is in excellent condition.

Schedule for the day:


Time      Category                  Race Time        Prizes* 
 9:00am   Tandem                    30 min + 1 lap   3 deep
 9:45am   Men Cat 4/5               45 min + 1 lap   3 deep 
10:45am   Women Cat 4/Masters       35 min + 1 lap   3 deep scored sep. 
11:35am   Men Masters 40+           45 min + 1 lap   3 deep 
12:35pm   Kids Race (ages 7-12)     2 laps           prizes for all 
          Shrimp Sprint (ages 4-6)  300m             prizes for all 
 1:00pm   Men Cat 3                 45 min + 1 lap   5 deep 
 2:00pm   Women 1/2/3               45 min + 1 lap   5 deep 
 3:00pm   Men Pro 1/2               60 min + 1 lap   7 deep
Entry Fee: $20.00. Second Event entry fee: $7.00. Kids races: FREE!

Registration: Race day registration starts at 8:00 a.m. and closes 15 minutes before your event starts. If you'd like to pre-register, forms are available for download on www.sorellaforte.com. All racers must be Oregon Bicycle Racing Association Members (OBRA). Annual ($20) or day ($5) OBRA licenses available at the race.

Rules: All OBRA Racing rules apply. Lapped riders will be pulled at the Chief Ref's discretion. Lapped riders will be ineligible for primes. Numbers worn on jersey, right side. Free lap rule will be in effect. All riders, including children in the kids races, must wear an approved helmet. No exceptions.

Awards/Prizes Information: Primes will be given in every race. Must be present at awards ceremony to receive your place prize and/or prime(s).

Directions: From I-5, take the Tualatin exit (exit 289), go west/straight on Nyberg road (Do not veer left onto Tualatin/Sherwood highway - go straight) and then turn left at the traffic signal onto Martinazzi Street. Head south on SW Martinazzi St. through 3 lights to the top of the course and turn left on Mohawk Street. Park in the Tri-Met Park-n-Ride lot. PLEASE WATCH FOR BICYCLES! Also be aware that the Crawfish Festival Parade may be going on when you arrive and be prepared for general festival traffic.

Questions?: Email Shari Matyas at shari@sorellaforte.com

Thanks to the following organizations: OBRA, Tualatin Chamber of Commerce, Tri-Met, Insignia Property Management / South Center Business Park, and City of Tualatin. For information on other Crawfish Festival activities, visit www.tualatincrawfish.com.