MIDTOWN RACING TEAM
presents

Sat. November 3rd & Sat. November 24th
Psycho Cross Series Races #1 & #2
Charlemagne at Fox Hollow French Immersion school
Eugene, Oregon

Can't make it to Europe for cyclocross season? We've got a world-class course right here in Eugene. A mix of forested single-track, grassy fields, run-ups and technical sections. Mountain bike friendly. Kids race too!
Race Schedule
9:00 am course open for warmup
10:00 am Men Beginners, Men C, Men Jr, Men Masters 50+, Men Masters C 35+  (45 minutes)
11:00 am Single Speed, Men Masters B 35+, Men Masters A 35+ (50 minutes)
12:00 pm Women B, Women Masters 35+, Women Masters 45+, Women Jr (45 minutes)
1:00 pm Team Relay (3 laps total)
1:15 pm Kiddie Cross (15 minutes)
1:30 pm Men B, Women A (50 minutes)
2:30 pm Men A (60 minutes)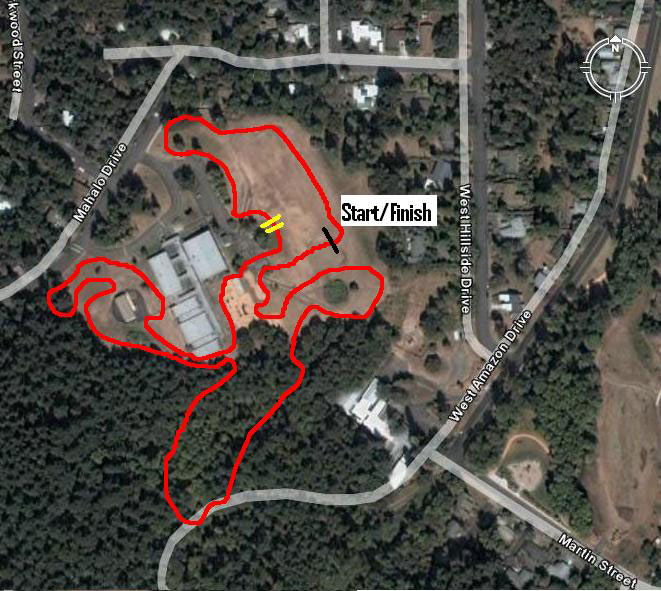 Directions
From I-5 take exit 189 to 30th ave.
Take E. 30th ave. (3 miles)
Left on Hilyard St. (0.2 miles)
Left on W. Amazon (1.3 miles)
Right on W. Hillside (<0.1 miles)
Left on Mahalo Dr.
Address is 5055 Mahalo Dr.
Parking available on Mahalo Dr.
Overflow parking on W. Amazon
watch for signs
Fees
$20 all senior Mens categories, $10 all Womens categories, $5.00 juniors
$2 off if a toy is brought for donation to Toys for Tots
Race day registration available until 15 minutes prior to event. Pre-reg. send check made out to "Orion Berryman Racing LLC" to 1047 W. 18th place Eugene, Oregon 97402
This is an OBRA event. Single day license will be available for $5.00. Season 'cross licenses available for $10.00. All OBRA rules apply, helmets required. We're using OBRA road numbers, please bring yours. We'll give you a number if you don't already have one.
Prizes
Awards 3 deep:

Men A $90
Men B $60
Women A $55
Single Speed $60
Masters A $70

All other categories merchandise donated by our generous sponsors. The promoters reserve the right to combine categories with 5 riders or less. 
Contact
Galen Mittermann, gmitt98@yahoo.com, 541-510-0273

Orion Berryman, orionberryman@gmail.com, 541-914-3390