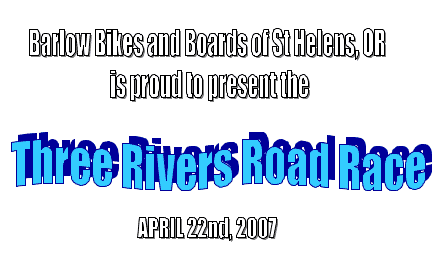 Updated Course Description


Due to a road with very poor pavement, OBRA and the organizers have revised the route from the previous version. Look at the profile below and see, though, that the change has little effect on the race dynamics. There are still a couple rougher patches of pavement, so super light wheels are not recommended. The map on the link has also been updated.

The race is a 16-mile loop that starts and finishes at the Rainier Schools complex. The route features a long steady climb and accompanying descent. This looks to be an excellent road race route, and there have been some comments back to that effect. Rainier Oregon is just 1 hour Northwest of Portland with access from I-5 or Highway 30.


| | | | | |
| --- | --- | --- | --- | --- |
| Category | Miles | Loops | Start | Prizes* |
| MEN 4/5 | 48 miles | 3 | 10:00 | 3 Deep |
| MASTER MEN 4/5 40+ | 48 miles | 3 | 10:05 | 3 Deep |
| JUNIORS (16 - 18) | 32 miles | 2 | 10:10 | 3 Deep |
| WOMEN 4 and 40+ | 32 miles | 2 | 10:20 | 3 Deep |
| MEN 1/2 | 80 miles | 5 | 12:30 | 3 Deep |
| MEN 3 | 64 miles | 4 | 12:35 | 3 Deep |
| MEN 40+ | 48 miles | 3 | 12:40 | 3 Deep |
| WOMEN 1/2/3 | 48 miles | 3 | 12:45 | 3 Deep |

*Prizes 3 deep with minimum 20 riders: Cash, Gift Certificate and Merchandise combos for approximately $40, $30, and $20. Promoter reserves the right to combine or split categories.



Entrants receive a free water bottle from Athletes Lounge!!



Updated Profile




Course Map
View the course map - 32 KB gif smaller map, 149 KB PDF larger map

Directions to Course
• From I-5 North or South take exit 36 to Longview WA.
• Merge onto WA-432 (turns to Tennant Way)
• Left at Oregon Way / WA-433
• Over Lewis and Clark Bridge to Oregon
• Take Ramp on US 30 (West) - Toward Clatskanie
• At top of the hill turn left at Larson Road, then left to stay on Larson Road
• Turn Left at Old Rainier Road (at Stop sign) - 28170 Old Rainier Road, Rainier OR 97048

Registration and Fees
• Pre-register online for $20 (Juniors $10)
• Day of race registration $23 (Juniors $10)
• OBRA membership required -- Day of race licenses available for $5
• Registration opens 8:30 AM and closes 10 minutes before your event

This is an OBRA event all rules apply see http://www.obra.org/forms/index.html. ANSI approved helmets required

OBRA and the organizers of this race do not provide insurance coverage for injuries that occur at the race. The costs related to --- those injuries are the responsibility of the individual participant.



For more information contact: richardhaight@hotmail.com