Sunday, February 22, 2009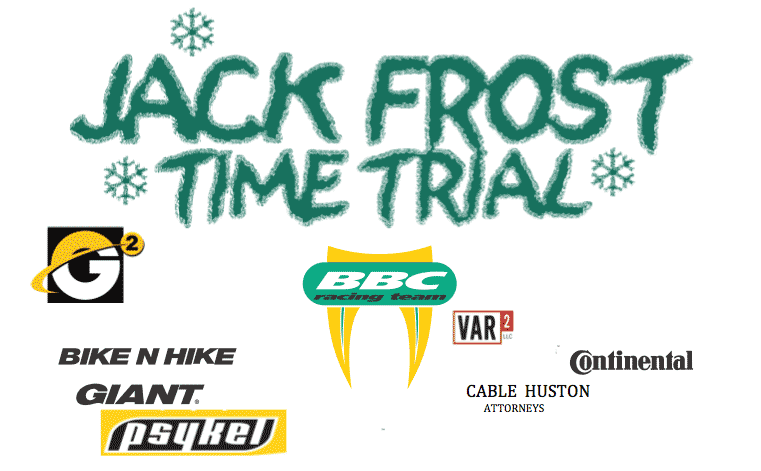 Pre Registration Only!
TIME: Entry and rider check-in opens 8:00. Closes at 9:00am. No exceptions! First rider 9:45am.
LOCATION: Vancouver Lake Park. Take 4th Plain West from I-5 (just North of Vancouver, WA); Follow Lower River Road to the staging area in the park.
CATEGORIES:
Men 1/2, 3, 4/5
Women 1/2, 3, 4

JR Men 10-12; 13-14; 15- 16; 17-18
JR Women 10-12; 13-14; 17-18

Masters Men 30-39; 40-49; 50-59; 60+
Masters Women 30-39; 40-49; 50-59; 60+

Tandems
Recumbents
ENTRY FEE: $10 Each Rider. Fees include OBRA surcharges.
Single Day License available on site.
Make checks payable to B.B.C.
ONLINE REGISTRATION: Signmeup.com
MAIL ENTRY: BBC Jack Frost TT c/o Sunset Athletic Club, 13939 NW Cornell Road, Portland, OR 97229
Please include an OBRA Standard Entry Form
COURSE: 12.4 miles, out and back, nearly flat countryside. Start is at Vancouver Lake Park.
Pavement varies: Mostly good
MISC. An OBRA event. OBRA rules and helmet regulations apply to all participants!

Promoters and officials reserve the right to combine categories. Please stay off the course.
Bring rollers or wind trainers to keep you close to the start and to cut down on congestion.
Get your OBRA race numbers before the event. Have number and license with you.
Pin number on right hip. See www.obra.org. Prizes: None
Please use the trash bins. Please no dogs. Please ride single file when with traffic.
QUESTIONS: Phil Sanders, 503.649.4632, phil@bbcbike.com