Thursday Nights May 12 - August 25
OBRA Sanctioned - BAR Race - Helmets Required
WHERE:
Champion Raceway, White City - Jackson County Sports Park Drag Strip
DIRECTIONS:
Hwy 62 to Hwy 140, 2 miles turn right on Kershaw Rd, Sports Park entrance is on the left.
REGISTRATION:
Starts at 5:15 and closes five minutes prior to your start time. All Non-OBRA riders must purchase single-day membership for $5 or annual membership for $25. Registration is located at the start/ finish area in the pit near the middle of the main grand stands.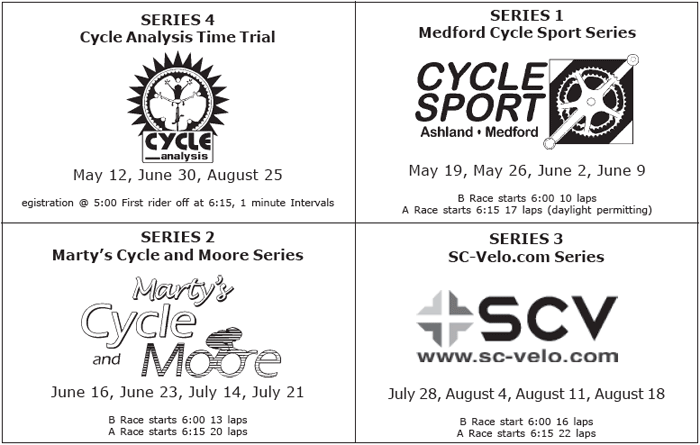 FEES:

$8.00 per night, $95 entire year ($80 w/15 cans food) $1 off with donation of 1 can of food to be donated to Access Inc.

AWARDS:

Race points 24-1st, 21-2nd, 19-3rd, 17-4th, 15-5th, 13-6th, 11-7th, 9-8th, 7-9th, 5-10th, 4-finishing.
Cash prize list for each series.

QUESTIONS:

Ed Garfield – 541-840-0713 • garfield@fatcatsglass.com