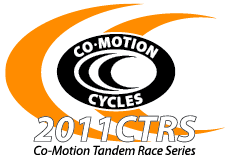 The Co-Motion Tandem Race Series is a group of 7 OBRA races that include tandem classes. Prizes will be awarded to 1st place finishers of the following rider categories: Male/Male, Male/Female, Female/Female, and Parent/*Child.
The top three finishers of the rider categories at each race will be given points with a grand prize being awarded to the team with the most points at the end of the series.
*Child is an indvidual with a racing age of 12 years or younger.
SERIES RACES
ICEBREAKER
- Eugene (April 16)
Tandem TT Championships
- Eugene (May 8)
OBRA Road Race Championships - Silverton (May 14-15)
Salem Fairview Circuit Race - Salem (June 26)
High Desert Omnium - Bend (July 9-10)
OBRA Criterium Championships - Bend (Aug 13)
USA Cycling Masters National Road Championships - Bend (Aug 31- Sept 4)
PRIZES
Over $2500 in Total Prizes!
Grand Prize of $500 Value
Series Race Prizes Will Include:
Co-Motion Jerseys
Co-Motion Shorts
T-Shirts
Cycling Caps
Baseball Caps
Wool Socks
Socks
Water Bottles
www.co-motion.com