Willamette University
CAPITOL CUP CRITERIUM 2011
Salem, OR

Saturday, March 19, 2011
| CATEGORY | START TIME | DURATION | PRIZES |
| --- | --- | --- | --- |
| Juniors | 2:00PM | 20 Min +1 lap | Merchandise |
| 4/5 Men | 2:30PM | 30 Min +1 lap | Min $60 or 10% of field profit |
| Women 4 | 3:10PM | 30 Min +1 lap | Min $60 or 10% of field profit |
| Women 3 | 3:50PM | 30 Min +1 lap | Min $60 or 10% of fields profit |
| Men 3 + Women 1/2 | 4:30PM | 45 Min +1 lap | Min $100 or 20% of field profit |
| Men 1/2 | 5:25PM | 60 Min +1 lap | Min $250 or 40% of field profit |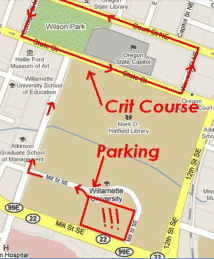 Course:
A pancake flat 0.7 mile four-corner rectangular course, surrounding the Oregon State Capitol building and directly adjacent to the Willamette University campus. Most of the road is in very good condition. There is, appropriately for our race's early spring timing, a stretch of "pavé": Waverly Street's pavement is broken, the potholes will be clearly marked, but please ride the course before your race and get to know this short stretch of road.

Registration:
Onsite Entry Fees: Juniors $5; Men 1/2, Men 3 and Women 1/2 $25, all other categories $20. Registration opens at 12pm and closes 15 minutes before your event. One-day race licenses available for $5. Annual licenses $25 onsite. Registration is in Ford Hall located on the north side of campus by the start/finish line.

Pre-registration:
Pre-register online through the OBRA website. Men 1/2, Men 3 and Women 1/2 will be $22, Juniors are $5, and all other categories will be $17. Those who use this pre-registration system will need to check in before their race and sign a waiver for Willamette University. The Waiver can be provided early upon request through the contact information below.

Questions?
Contact Kevin Bernstein (kev0476@gmail.com or kbernste@willamette.edu Phone: 801-574-7730) or Alex Turpin (aturpin@willamette.edu)
Prizes:
The field's pot will be calculated by the total number of riders times the entry fee. The more riders the more cash prize! Bring your Friends! In addition to money, Bike Peddler, Scott's Cycles and Northwest Knee warmers have all provided sponsorship in the form of bicycle accessories and Emborcation. These will be distributed as prime prizes and finishing line prizes.
Sponsored By:



Directions:
From I-5 North: Take exit 253 for OR-22/OR-99E toward Detroit Lake/Bend. Merge right onto Mission Street, continue for about 2 miles and take the Willamette University exit on the bridge. Take slight left through the light intersection. Take first right to the university parking lot along a soccer field and park in the parking lot.

From I-5 South: Take exit 253 for OR-22/OR-99E toward Detroit Lake/Bend. Merge left onto Mission Street and follow the directions above. The Willamette University address: 900 State Street, Salem, OR 97301
Parking:
On Willamette University campus, see map above.

Helmets and OBRA Membership required, OBRA rules apply. Memberships may be purchased by following this link: http://obra.org/membership/new. Annual memberships purchased online in advance are $20. Annual memberships purchased day of race are $25.