Track Home
|
History
|
Information
|
Records
|
Schedule
Women's Track Clinic
Saturday, April 26, 1-3 pm at Alpenrose Velodrome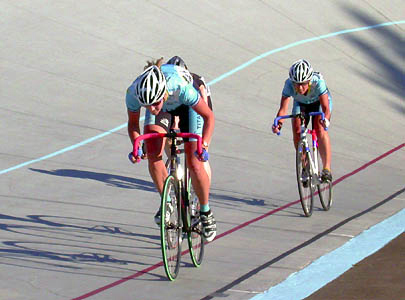 Have you ever wanted to learn to ride the track at Alpenrose? Here's your chance! This class is designed for the beginner woman who wants to learn to ride a fixed gear bike while navigating the banked track at Alpenrose. Several experienced riders will be on hand to teach the skills necessary for successful track riding. You'll learn to ride a fixed gear bike on the apron (the flat part of the track) then gradually work up to riding on the banking. We will work on some drills to help you gain confidence and if time allows, we can do some mock races. Our goal is for you to have fun!
Cost is $5 for insurance and $5 for a rental bike. Please come early (12:30 pm) if you need to rent a bike. Bring your own helmet, pedals and shoes. We'll have treats afterwards to celebrate a job well done!
In the event of rain, class will be cancelled.
Call (503-805-1361) or email if you have questions: mautner3@comcast.net
Looking forward to seeing you there!
Meg Mautner