Track Home
|
History
|
Information
|
Records
|
Schedule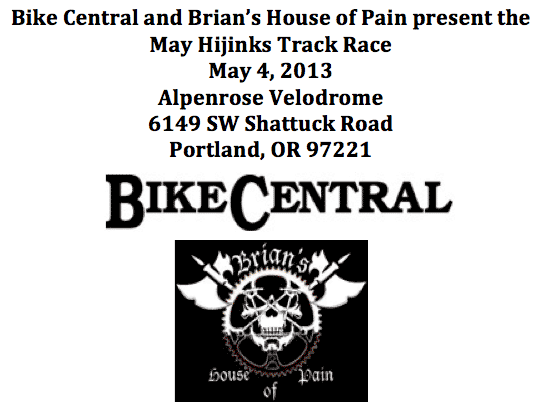 Registration at 9 a.m., racing at 10 a.m.
$10 1st race, $5 each additional
Prizes-3 deep Merchandise, primes, and ribbons
Event Schedule
Jr. Men-Alpenrose Mile, points, unknown distance
Jr. Women- Alpenrose Mile, points, unknown distance
Men 4/5-Alpenrose Mile, scratch, point-a-lap
Men 3-unknown distance, points race, scratch
Men 1/2-point-a-lap, miss and out, points race
Women 4-Alpenrose Mile, point-a-lap, scratch
Women 1/2/3-scratch, miss and out, points race
Masters Men 40+-points race, scratch, miss and out

OBRA Membership required. OBRA Memberships may be purchased at the race ($5 one day, $25 annual) or more easily by following this link: http://obra.org/membership/new ($5 one day, $20 annual online)
Please provide proof of OBRA membership at registration.
Rental bikes will be available for $5
Event may be delayed or canceled in the event of rain
Questions? Contact Meg Mautner (503) 805-1361 mautner3@comcast.net
Promoter discretion to combine categories if min of 5 riders not met. Length & type of race may change without notice to accommodate schedule, rider capabilities, and weather. This is an OBRA sanctioned event. All relevant OBRA rules apply. OBRA and the organizers of this race do not provide insurance coverage for injuries that occur at the race. The costs related to those injuries are the responsibility of the individual participant.